Donate
Donate to Carers Trust's Emergency Fund in response to the Coronavirus crisis
There are millions of people in the UK who provide unpaid care for a family member or friend, many of whom experience severe problems of isolation and ill-health as a result of their caring role. Unfortunately, the Coronavirus emergency has made their situations far more challenging.
Many carers are facing greater pressures than before, particularly as some are providing 24/7 care to ensure that they meet the physical and mental needs for the person they care for. On top of this, many carers are unable to get to the shops or food banks, resulting in additional worries about how they can access essential medical supplies and food.
Help support carers through the crisis
Carers Trust have set up a Carers Emergency Fund to help support unpaid carers through the coronavirus crisis. Donations that they receive will go straight into the Carers Emergency Fund, which has been set up to provide small grants of up to £300 as quickly as possible to those who need it most.
Click here to see what a donation could buy.
You can support the work of KCN by donating via our local giving page: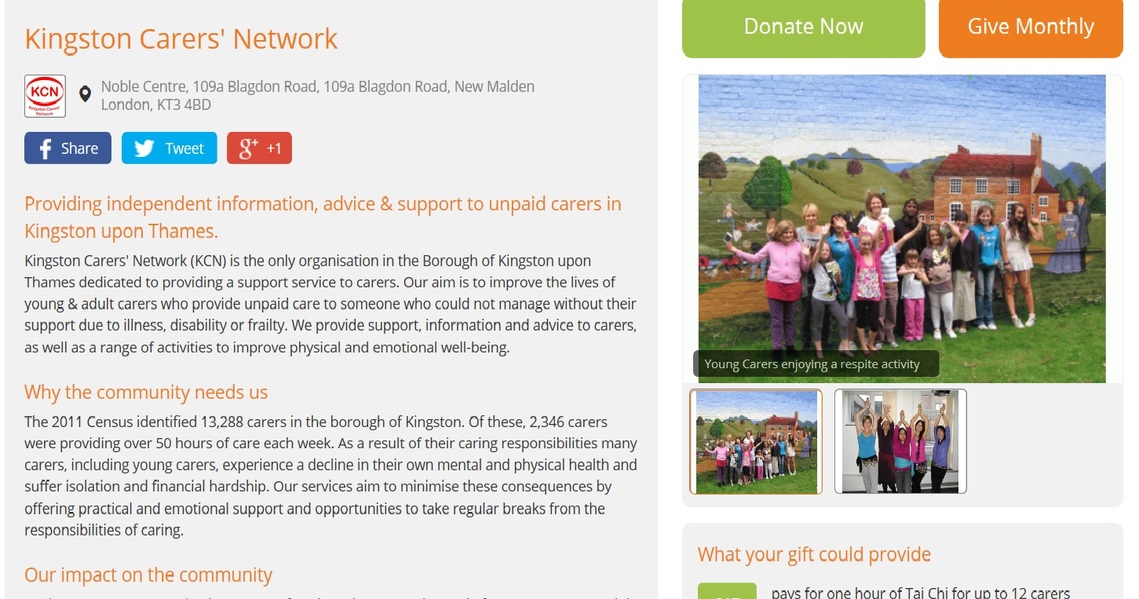 You can also help raise money for KCN through Easy Fundraising:

Please help support Kingston Carers Network by shopping online.
Use easyfundraising to shop with over 3,500 retailers including Amazon, Argos, John Lewis, ASOS, Booking.com, eBay, Boden, and M&S.
Every time you shop, you'll raise a free donation for Kingston Carers Network every time, it's that easy!
Find out more: https://www.easyfundraising.org.uk/causes/kcn/