Every year we hold our Annual General Meeting, or AGM as it is commonly known, in order to report on the year that has passed and look to the challenges and opportunities in the year ahead. It is an opportunity to formally elect member of the Trustee Board.
KCN is committed to ensuring that carers are involved in the running of the charity. Everyone is welcome to our AGM but only members are allowed to vote. Being a member of KCN is different to being registered with KCN as a carer. There is no requirement for you to be a member but you will not be able to vote at the AGM unless you are both a member and registered with us.
If you wish to apply to become a member, we anticipate this membership to be continuous whilst you are associated with KCN however, you can resign as a member at any point in the future. There is no fee to join, but in the event of KCN's insolvency, all members might be charged a nominal fee of £1.

Membership entitles you to:
A vote at the Annual General Meeting (AGM)
Receive the Annual Reports
Appoint Trustees to the Board
A KCN membership card
If you wish to become a member, please contact admin@kingstoncarers.org.uk
Previous AGM
The last AGM was held on Friday 22nd October 2021 and was followed by a delicious afternoon tea. We were lucky enough to have both Her Worshipful the Mayor, Sushila Abraham, and Sir Ed Davey in attendance. Both spoke highly of KCN and amazing carers in the borough.
The event was live tweeted and you can see the tweets below.
Diane White gave the following presentation: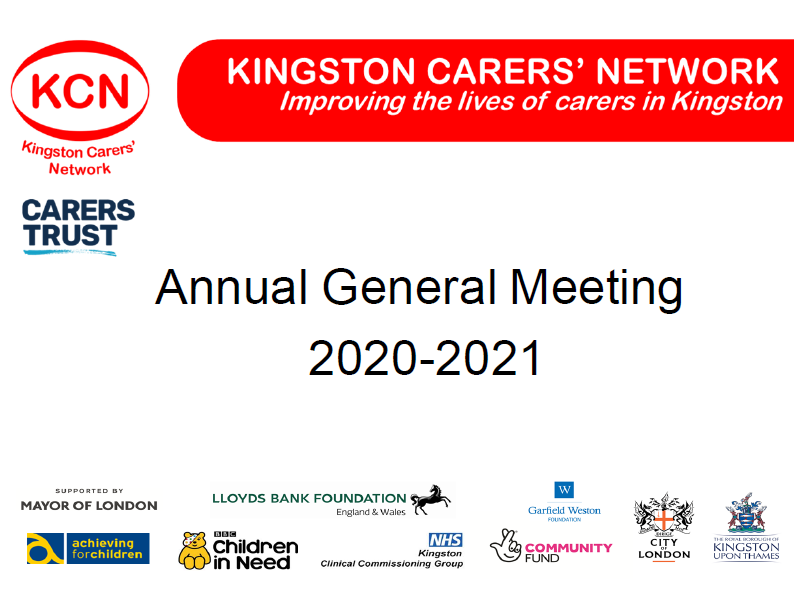 Our wonderful Young Carers' helped put together this moving video: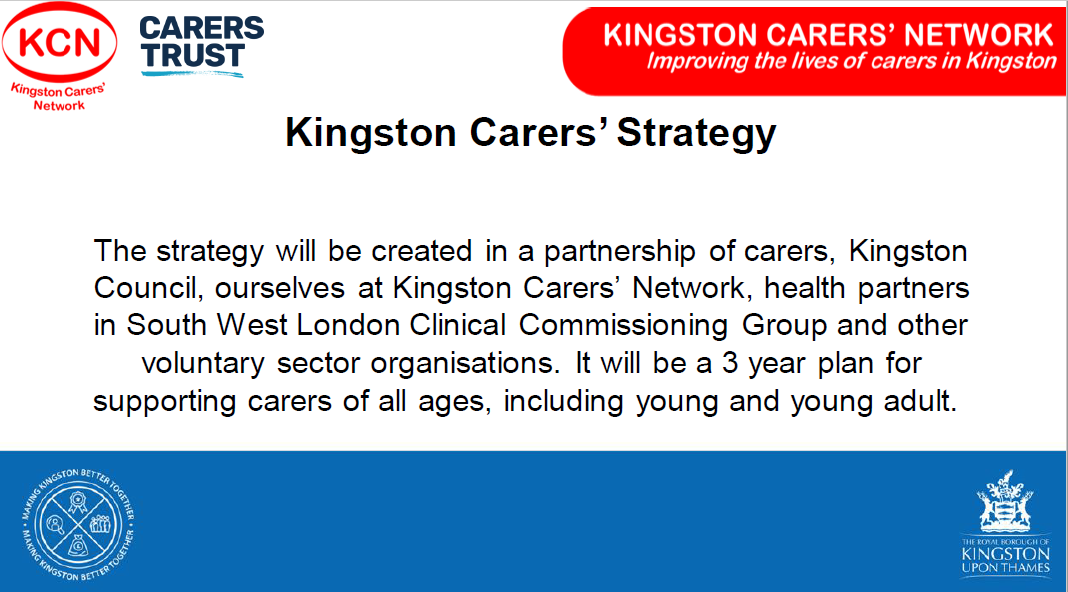 Great turnout at our AGM today. Tony Woods, Chair, is opening the meeting reflecting on the hard year our carers have had. pic.twitter.com/IuG7jbwJSY

— Kingston Carers' Network (@KingstonCarers) October 22, 2021
Huge thanks to our 68 volunteers without whom we couldn't provide the service we do! pic.twitter.com/AF76UhgWtf

— Kingston Carers' Network (@KingstonCarers) October 22, 2021
High praise from @EdwardJDavey "I don't know what we would do without KCN" pic.twitter.com/OzqMQnimml

— Kingston Carers' Network (@KingstonCarers) October 22, 2021
Very moving to hear @EdwardJDavey talk about why carers are his "big issue" and his lived experience as a carer for much of his life.

— Kingston Carers' Network (@KingstonCarers) October 22, 2021
Next up is our CEO, Diane White, recapping on some of the highlights amidst a very difficult year. pic.twitter.com/VtNCtumEhP

— Kingston Carers' Network (@KingstonCarers) October 22, 2021
Huge thanks to Lyndsey, Volunteer Co-ordinarily, who set up a telephone befriending service overnight at the start of the pandemic. pic.twitter.com/yx5yuNLG5Q

— Kingston Carers' Network (@KingstonCarers) October 22, 2021
Can you believe that our Adult Carers' Support Team secured financial gains of nearly £1.17 million last year?! pic.twitter.com/zbvkaTzHOX

— Kingston Carers' Network (@KingstonCarers) October 22, 2021
Diane is explaining why it is so important to get your voice heard by taking part in the discussion around the Carers Strategy refresh with @RBKingston Deadline is 31st October https://t.co/DoAIUuoBtM pic.twitter.com/62L7Vr4maI

— Kingston Carers' Network (@KingstonCarers) October 22, 2021
Kind words from @RBKMayor "Without KCN it would be very, very difficult for our carers" pic.twitter.com/dDy0rWmLKx

— Kingston Carers' Network (@KingstonCarers) October 22, 2021
"The strategy MUST be written by carers because they alone know what they need." @RBKMayor pic.twitter.com/alUM2La0fs

— Kingston Carers' Network (@KingstonCarers) October 22, 2021
"On behalf of @RBKingston I would like to say a big thank you for all you are doing for the carers of the borough" @RBKMayor

— Kingston Carers' Network (@KingstonCarers) October 22, 2021