"Inspiring Young Carers" was the first ever Party Conference organized specially for our Young Carers aged 5-22 in the Royal Borough of Kingston upon Thames.
The event was held on Saturday, February 4th, 2023 at Chessington World of Adventures.
The 1st YCP Party Conference turned out to be a huge success. Here are a few quotes from parents, mentors, supporters and trustees.
Pictures will be uploaded soon. Stay tuned.
"I just wanted to drop you a quick message to say thank you very much for having us at the Young Carers Conference yesterday! My young carer was so excited about the event and held her laminated ticket as if it was the Golden Ticket to Charlie and the Chocolate Factory! She loved every minute of it, and we were blown away by the activities, the magician, the competition entries which actually made me feel quite emotional, goodie bag and treats all around. My daughter was so happy and proud. I know she wanted to hide away during the playing of 'You Can Count On Me' but then proudly stood up to show she'd taken part, and when Klaire started dancing, she sat there with open mouth saying, "I didn't know she could do that!". I left her after this initial hour but I'm sure the rest of the day remained eventful, and we all got to enjoy the animals in the park after. So this is just to say a huge thank you and very well done from us. It must've been an incredibly time-consuming task putting this all together but from our point of view it was all very much worth it, and my young carer really felt very special and loved. Thank you so much!" Parent of young carer
"The conference was really amazing. Thank you so much to you and all the team. It was so inspirational. " Mentor who attended
"What a privilege to attend today's conference. I'm so impressed with everything and everyone. It looks like you'll have a really marvellous day." from Robert and Holmes Real Estate (Sponsor)
"As a first conference this was absolutely brilliant. Well done everyone. A fantastic and insightful workshop." Kingston Charitable Foundation
"Brilliant! Even as a trustee, I learned so much more about what KCN does and just how important young carers support is. Wonderful heart-warming stories from the young carers themselves. Scale this up to 800 and you see how truly earth moving KCN and YCP is. Well done." KCN Trustee
"Very well organised, every family has felt recognised and included. Our absolute gratitude to Liz and team for all the support my young carer has received" Parent of young carer who spoke
"I loved the workshop. Especially when the young carers spoke. I thought it was such an inspiring and powerful moment. The whole conference has been organised so well. I don't think it could have been any better. My two young carers were sceptical but upon arrival they were pleasantly surprised. The whole atmosphere made them excited, plus seeing people they knew really lit them up." Mentor
"Very interesting and informative. Fantastic event. Well done and thank you so much." Supporter
"Fantastic to hear young carers voice and to have MP here showing support. Thank you for inviting me". Create (Supporter)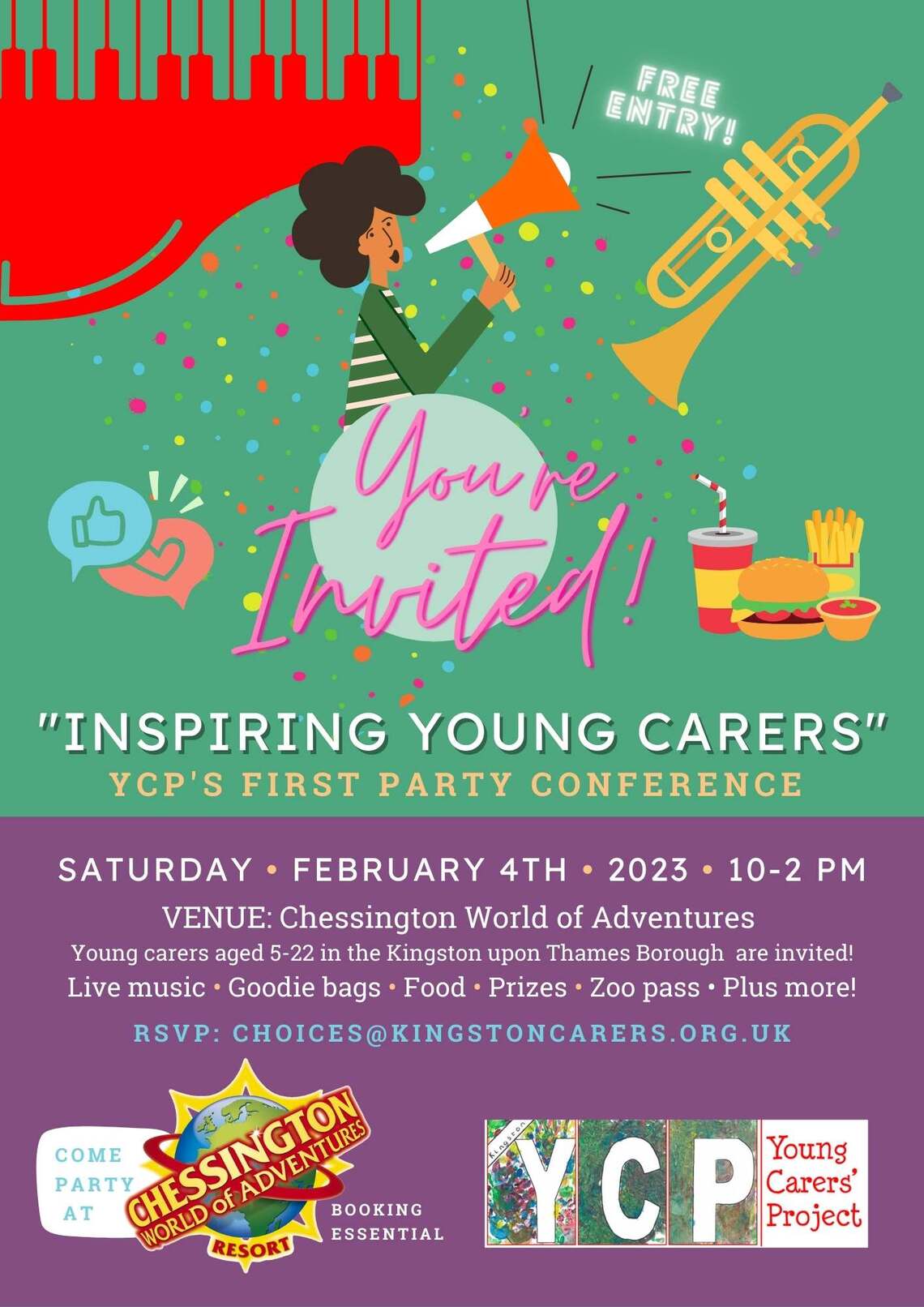 Announcing the "Creative Competition".
Win an XBox and Amazon Vouchers.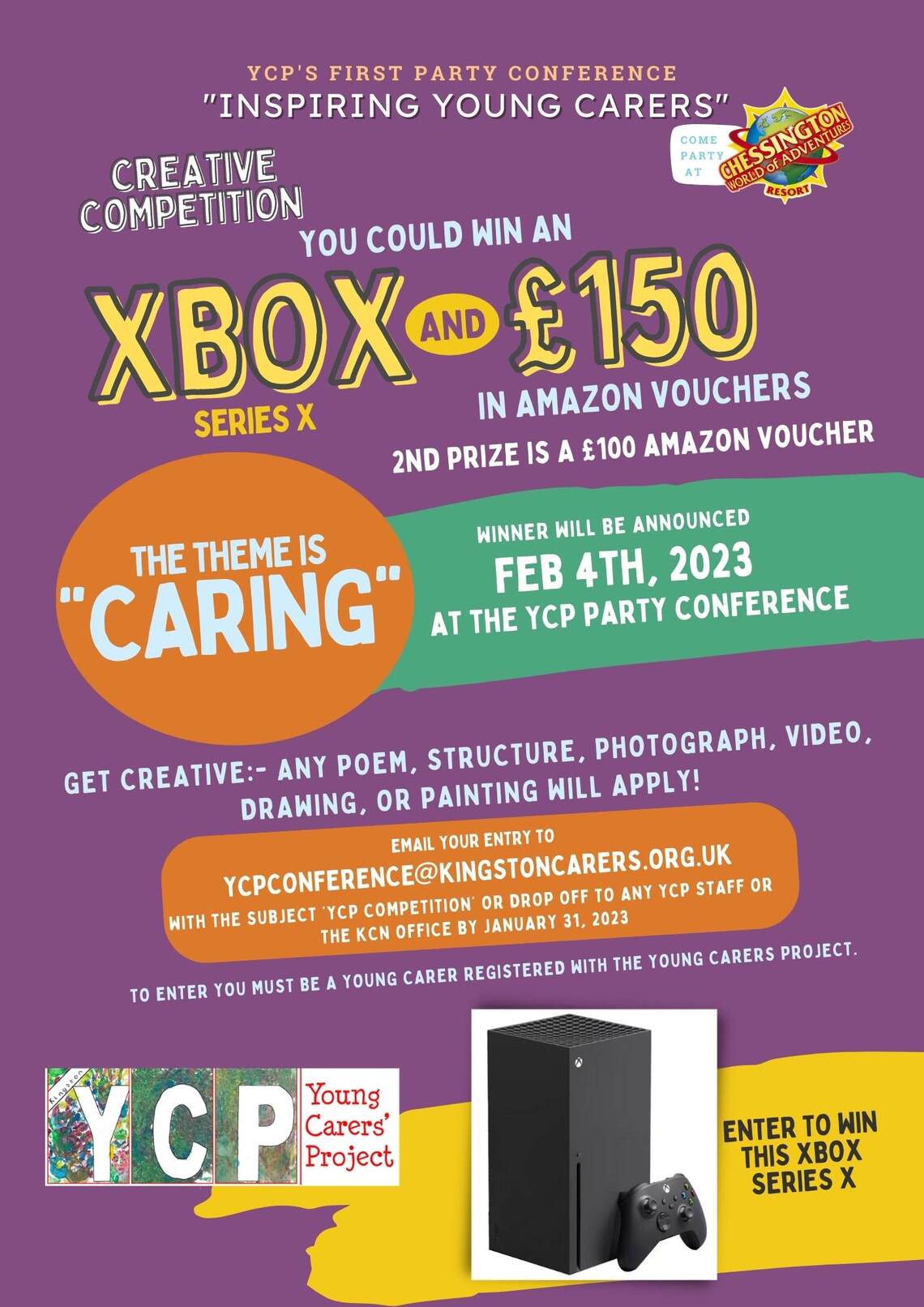 THANK YOU!