KCN Volunteers recognised with Mayor's Community Award
KCN Volunteers recognised with Mayor's Community Award
We are thrilled to announce that two of Kingston Carers' Network's own have been honoured at this year's Mayor's Community Awards. The Young Person's Mayor's Award 2020 has been given to our very own young carer Lewis and our wonderful volunteer Rita has been presented with the Mayor's Award. These awards are a great way to highlight the work of those who give up their own time to help their local communities. We are so pleased that of all the worthy nominations across the borough, Lewis and Rita are being rightfully recognised.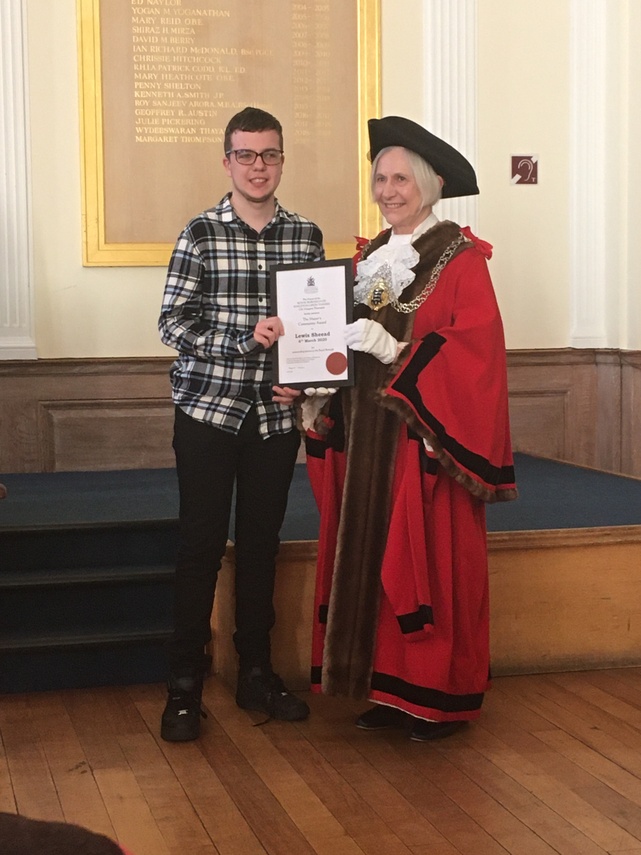 Lewis has been with our Young Carers' Project for four years; he is a confident and mature young man. He is kind and caring and has a wonderful cheery demeanour. Lewis is always the first to offer a listening ear, guidance and support. He has regularly volunteered for the role of buddy for a new young carer. Last summer, we went away for a three-day outdoor residential trip where Lewis gave up his time to be our Junior Leader. He excelled in his role as our first aider and was a great help, putting others before himself. Also, we arranged for Lewis to volunteer at Kingstonian FC, we were pleased to be told he had been an asset to the team and would be welcome back, being described as "an exceptional young man".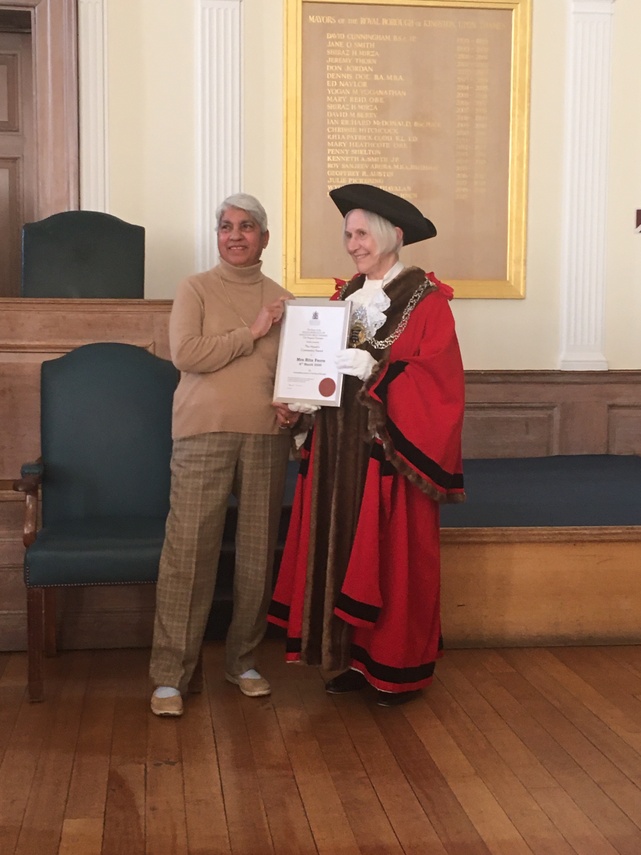 Our second awardee, Rita has been volunteering with us for over three years now. We are very grateful for her support and rely on her enormously. Rita understands the challenges carers can face and works tirelessly to support our carers. Rita regularly visits our offices where she helps with admin and providing many administrative tasks. She has a happy disposition and always makes everyone feel positive. Rita also comes to our wellbeing activities, supporting our staff, especially with young carers. Rita helps with every aspect, preparing food, tidying up, art activities, trips out, making children feel welcome and ensuring the young carers have the opportunity for respite breaks, make new friends, learn new skills and having fun. She has formed good relationships with our young carers, and they seek her out to share their news. Rita is always willing to do anything at all to help and this includes information and fundraising sessions, such as manning a stall at Surbiton Farmers' Market, where we were charity of the month. We are truly privileged that Rita has chosen Kingston Carers' Network as a benefactor of her energy, enthusiasm, kindness and huge heart. She makes an enormous difference to our organisation and the wellbeing of all our carers.
We are incredibly proud of Lewis and Rita for being recognised for all their hard work and very grateful for the many contributions they make to Kingston Carers' Network. We can't wait to see them receive their awards and to continue working with them in the future.
14:53, 06 Mar 2020 by Jo Maye